ABOUT US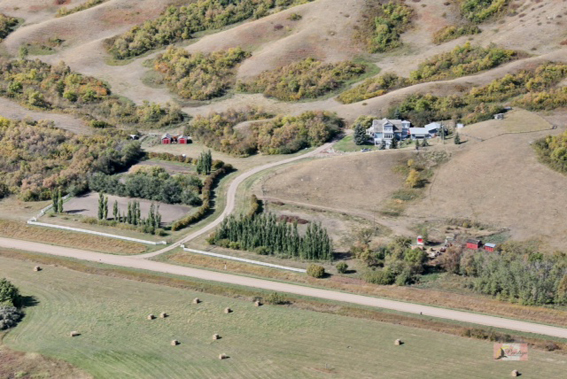 We live on 22 acres in the beautiful Qu'Appelle Valley, 8.5 kilometres from Craven, Saskatchewan. Our lives are shared with the sheepdogs, a few cats and 4 horses. We selectively breed Old English Sheepdogs under the Valubal prefix. Our kennel is small, generally housing between 5 and 9 OES at any one time (this includes our seniors which are retired dogs over 7 years). We only breed a litter when it is our intention to forward our breeding program and to show – generally once each year.

Our selective breeding program has produced many Canadian and American champions as well as Best in Show and Best in Specialty Show winners. Valubal OES are often ranked within the top 5 Old English Sheepdogs in Canada and we hold many Canadian records. We show our dogs throughout Canada and the United States, and occasionally in Europe.
Old English Sheepdogs are our passion, and showing them is our hobby
This is not our business!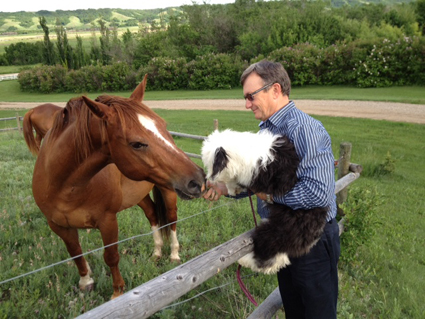 I received my first Old English Sheepdog, Chumley, in 1981 as a Christmas gift. I wanted a sheepdog for many years – little did I know what a wonderful impact that little ball of fur would have on the rest of my life! Chumley, officially known as Can. Ch. Shantel's Blue Chumley CDX, introduced me to the world of conformation, obedience, and scent hurdle racing. To this day, he holds the biggest part of my heart!

A lot has happened since then. I have owned and handled many of Canada's top winning Old English Sheepdogs, have shown over 50 other breeds to championship titles for clients in Canada, the US. and Europe. For over 25 years I have instructed conformation and obedience classes for the Regina Kennel and Obedience Club (RKOC). I've held many Executive positions over the years in the RKOC, am a life member of the Old English Sheepdog Club of America and member of the Old English Sheepdog Fanciers of Western Canada. I have written several articles about OES for a variety of dog magazines. As I have said – dogs are my passion and hobby!

My second OES puppy did not arrive until 1988. This dog grew up to be BIS, BISS Am. Can. Ch. Shantel's Headed for the Future TT, known as Crockett. He was a wonderful dog to live with, a joy to show and was extremely successful in the show ring. Crockett was the #1 Old English Sheepdog and #8 Herding Dog in Canada in 1989 – all before turning 2 years old!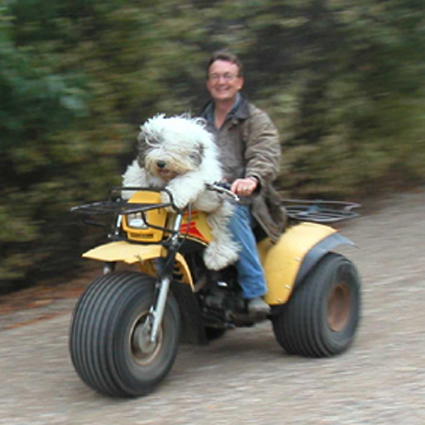 Unlike many people who acquire their first show dog, I was not interested in breeding. I was having far too much fun showing my own and other breeder's dogs. It was my intention that I should learn as much as possible about the health and temperament of different OES pedigrees and become well-known in the dog world before attempting to breed. How else would I be able to selectively place my puppies if no one knew who I was or how to contact me!

So it wasn't until 1992 - eleven years after my first dog arrived, that I purchased a Crockett daughter and began to breed Old English Sheepdogs. Her name was Am. Can. Ch. Bluecaleb River Phoenix. Sadly, we lost her at 14 years of age in May 2006.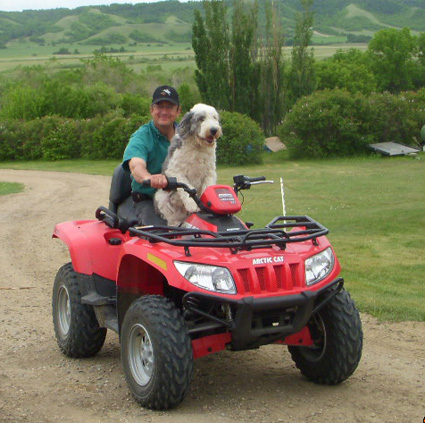 Even at age 9, Tatum still liked riding the quad!