Canadian & American Champion
Kanadischer & Amerikanischer Champion
Tumbleweed Lambluv Gala Affair
"Comet"



* 24.12.2000, Hips good, eyes clear

HD- frei, frei von erbl. Augenkrankheiten


Ch. Lambluv Desert Dancer x Ch. Tumbleweed Scandalous Affair CD





Comet holds the Canadian record for the most Best in Shows won by an Old English Sheepdog. The previous record was 19 - Comet won 32!
What can I say about Comet? Lots! Comet is bred and owned by Cathy Turtle, Tumbleweed OES, Saskatoon, Canada. Comet is every breeder, owner and exhibitor's dream. Cathy and I have been best friends for many years and more recently co-breeders. We both recognized Comet's potential while he was very young, and in early 2003, the decision was made to co-own him. We both knew that he would have far more exposure if both of us were to share his show career. My second weekend out with Comet resulted in back to back best in shows, and we have not looked back. Comet is a great ambassador for our breed. He makes regular visits to the children's ward at Saskatoon University hospital where he takes great pleasure in entertaining all of the kids. He can do many tricks in addition to being a very cuddly addition to any child's bed! He gently cleans ears and offers kisses!


Highlights of Comet's show career are as follows:

As a puppy:

Canadian Championship

12 Best Puppy in Groups

3 Best Puppy in Show

Winner of All-Breed Sweepstakes

Winner of the Comrie Davidson All-Breed Puppy Classic, Saskatoon, Saskatchewan. Interestingly, Comet's mother has won the classic, as well as his son Ch. Valubal Stuck on You


As a young dog, Comet easily finished his American championship in one trip to the U.S. with 4 majors.

In June 2005, Comet broke the all-time record for the number of Canadian Best in Shows won by an Old English Sheepdog. On a hat trick weekend, he received #19 to tie the record, #20 to break the record, and #21 just for fun.


Show career to December 2005

#1 OES and #1 Herding Dog in Canada

29 Canadian All Breed Best in Shows

98 group firsts and 71 other placements

Award of Merit, Westminster Kennel Club, New York, 2005

#2 Old English Sheepdog, #8 Herding Dog, 2003

#1 Old English Sheepdog, #2 Herding Dog, 2004

3 times Best in Specialty, Saskatoon Working and Herding Dog Association, 2003, 2004, 2005

2 times Best of Breed, Canadian National Specialty, 2003, 2004

Award of Merit, Old English Sheepdog Club of America, Pittsburg, 2004

Award of Merit, Old English Sheepdog Club of Greater Pittsburg, 2004 (held the day after the national specialty)

Comet retired in March of 2006 with yet another hat trick weekend, bringing his career best in show total to 32, and herding group first total to 102.

In addition to his exceptional show career, Comet is proving himself as a consistent producer of beautiful puppies no matter what pedigree he is bred to. His temperament, type, soundness, and fabulous movement is passed on to his get. Many have already achieved Canadian and American championships as young dogs.



Some of his champion kids are:

Can. Ch. Valubal Stuck on You (Best of Winners at the OESCA Centennial Show, 2005)

Can. Ch. Adominos Teddybearzoo Blackjak, owned by Rhonda Bailey and Barb Lynch

Can. Ch. Adominos' C It 2 B'leve It, owned by Rhonda Bailey and Barb Lynch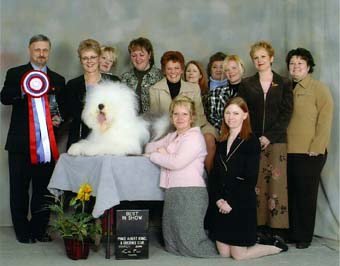 Comet winning Best in Show on his retirement weekend, March 2006

Pictured with our friends and fans.

Judge: Mr. Tom Alexander
Comet's Puppies