Can Ch. Valubal Fitch Blake
#2 OES in Canada for 2010





* 2009



Ch. Reflection's Catch Me If You Can x Ch. Valubal Charm School Graduate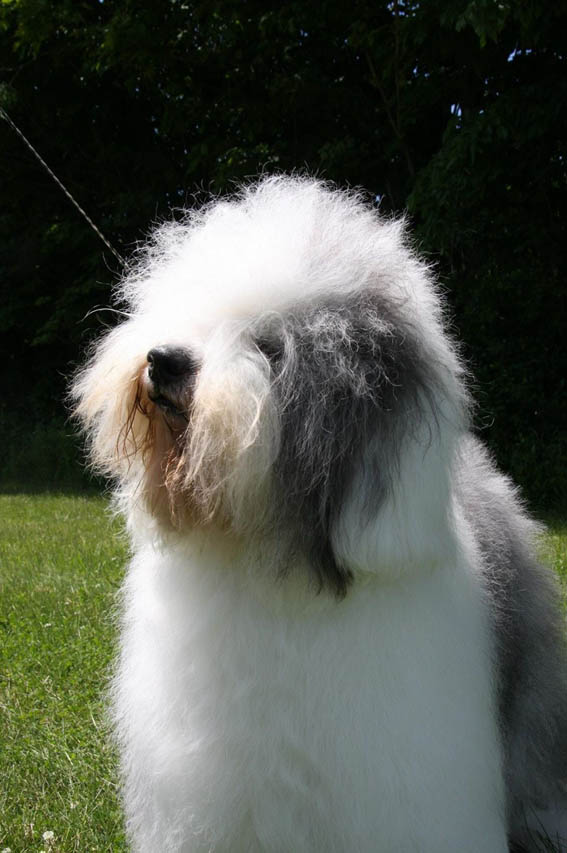 Blake is co-owned with Matthieu Vincent and "co-loved" by Gaby Castro. Sadly, they live far away in Montreal! This team continues to amaze me. Blake is always expertly groomed and presented!!
When not attending shows, Blake goes to "work" every day at the Vincent Flower Shop where he welcomes customers from his glass flower fridge and rides along in the van while picking up flowers at suppliers. Many customers stop in to see how Blake has been doing at the shows. He has a lot of fans!
Blake continues to have a very successful show career!
2014 to date:
Currently one of the Top 20 OES in the USA
American Grand Champion Title
Multiple Group Placements in USA
Multiple Herding Group Wins and Placements in Canada

2013
No. 5 Old English Sheepdog in Canada All Breed Points (Shown 7 weekends)
No. 1 Old English Sheepdog in Canada Breed points (Shown 7 weekends)
Old English Sheepdog & Owners Club of Canada's National BOB Winner (BISS)
Multiple Group Placements in USA
Multiple Herding Group Wins and Placements in Canada

2012
No. 1 Old English Sheepdog in Canada All Breed Points
Two Best in Shows
Herding Group 4th at Ottawa Show of Shows
Herding Group winner at National Canadian Eukanuba Show
Canadian Grand Champion Excellent Title
Canine Good Neighbour Title
Multiple Herding Group Wins and Placements in Canada

2011
No. 3 Old English Sheepdog in Canada All Breed Points (Limited Showing)
Best in Show winner
Best of Winners at New England OES Speciality in USA (5 points major)
Herding Group 1st at Ottawa Show of Shows
Group Placement in USA
American Championship Title
Multiple Herding Group Wins and Placements in Canada

2010
No. 2 Old English Sheepdog in Canada All Breed Points (Limited Showing)
Canadian Championship Title
Multiple Herding Group Wins and Placements in Canada